Here's a summary of the matters discussed at the October 30 meeting of the Council of Commissioners. To learn more about the Council of Commissioners, visit the Governance page.
Director General's Report
Enrollment – Director General Mike Dubeau happily reported that, based on September 28 figures, our student enrollment continues to rise. We have had an increase of 92 students from 2017-2018, and an overall increase of 681 students over the last six years.
ENROLLMENT COMPARISON*
LEVELS
2013-2014
2014-2015
2015-2016
2016-2017
2017-2018
2018-2019
DIFF
Elementary
3344
3475
3603
3708
3794
3795
451
Secondary
2380
2316
2451
2567
2583
2662
282
K-11
931
888
856
859
867
879
-52
Totals
6655
6679
6910
7134
7244
7334
681
*These figures do not include our 4-year-old kindergarten, our adult students, or the homeschooled children supported by our board.
Extraordinary school community – In his report, DG Dubeau also took time to celebrate and thank the amazing community built around Pierre Eliott Trudeau Elementary School. The day immediately following the Mont Bleu tornado, staff, students and parents came together to bring food and drinks over to the shelter that had been managed by the Red Cross at Cégep de l'Outaouais. A large part of the food and drinks donated to the 600 people at the shelter was meant to be used the PETESFEST biannual carnival that same day (cancelled for tornado-related reasons). Thank you to the amazing students, parents and staff of PETES.
Lab-École – DG Dubeau updated Council members on the Lab-École project, again at Pierre Eliott Trudeau Elementary School. PETES and WQSB members met for a second meeting, this time in Québec City, with the Lab-École team of experts to view and discuss possible configurations for new and creative learning environments.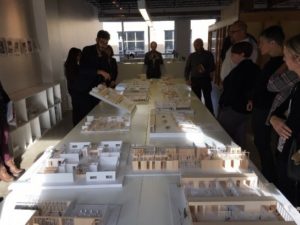 The WQSB-PETES Lab-École team includes David McFall as principal, James Shea as chairman, Chris Schaler as local commissioner, Catherine Lesage as teacher, Rachelle Lemire as parent, Aisha Thomas as a special education tech, Frank Malette as caretaker, Michel Hotte as coordinator of buildings, Carrie Collins as manager of technology, Luc Carrière as project manager, Bruce Courchaine as technical supervisor of caretakers, Sandra Cox as director of finance, Pascal Proulx as directors of buildings, technology and archives, Patrice Caron as project manager for the MEES, and Mike Dubeau as director general.
The team found it invigorating to see the possibilities and discuss the options before them. There is still work to be done, as we need to decide what kind of philosophy and what kind of design we want for the school.
Tribute to Ellard Perry – Director General Mike Dubeau invited Council members to pay their respects for Ellard Perry, a retired teacher, principal, director and commissioner to the Western Québec School Board. Based in Shawville, Ellard taught at Pontiac Protestant High School from 1967 to 1975 before becoming vice-principal from 1975 to 1981, and then principal until 1991. He spent some time as director at the board office in Aylmer before retiring in 1997. Even then, he spent a few years as a commissioner until his full retirement only a few years ago. Ellard was a fierce advocate for English education in our province and a strong supporter of education and services, especially in the Pontiac region. Ellard was a true pillard in the Shawville and Pontiac communities. He will be greatly missed.
Commitment to Success Plan
The Western Québec School Board is pleased to inform that the Council of Commissioners passed the 2018-2022 Commitment to Success Plan.
The plan, which has just been accepted by the Ministry of Education, lays out the objectives, orientations, indicators and targets for student success for the coming years. It includes the context of the school board, its challenges and priorities.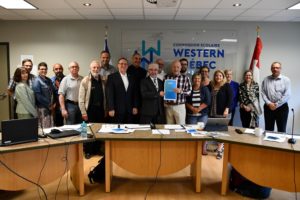 Aligned with the Ministry's strategic plan, the objectives include increasing the graduation and qualification rates, closing the achievement gap between certain groups of learners (boys, girls, students living in disadvantaged socio-economic areas), ensuring success in elementary schools and safe and secure buildings.
The plan provides an opportunity for all to understand the orientations, directions and strategies the school board is undertaking to ensure educational success for all its students. Its full version is available online.
Offers of Service for Professionals
Council has extended for a fifth and final year the contracts signed with professionals (architectural, mechanical/electrical, and civil/structural). In parallel, it has also passed a resolution allowing the board administration to go out to public tenders (3) for a bank of professionals in preparation for July 2019, when the present contract will expire. Since professionals are to be selected on quality, not cost, Council has appointed Alain Gendron, Secretary General and Procurement Officer, as Secretary for the Selection Committees.
Snow Removal
With the winter fast approaching, Council has passed the necessary resolutions to contract out the removal of snow on properties owned by the board. Snow removal contracts are awarded for 3 years to the lowest conform bidder for each lot.
Business or Person
Western Québec properties
$
Les fermes Renaud
Eardley
Career Centre
Lord Aylmer Junior
Lord Aylmer Senior
114 900
Les fermes Renaud
Symmes/D'Arcy McGee
Board Office
South Hull
106 425
Les fermes Renaud
Hull Adult Ed
Hadley/Philemon Wright
118 200
8698805 Canada Inc.
Buckingham
Greater Gatineau
50 700
6005608 Canada Inc.
Chelsea
Wakefield
123 750
Mickey McGuire
Dr. S.E. McDowell
Pontiac High
105 900
Derek Fleming Trucking
Dr. Wilbert Keon
33 383
Mountainview Turf Farm
Onslow
35 500
Gilbert Morin
St. John's
26 Leslie Street (old Pontiac centre)
43 050
New Cloud-based Software Solution
The Société GRICS, a public organization and the official software provider for all Québec school boards, is now deploying its new platform, which will take advantage of cloud technology. School Boards need to authorize Société GRICS to host their data in the cloud. As recommended by Director of Buildings, Technology and Archives Pascal Proulx, Commissioners have approved the resolution authorizing the signature of this contract.
New Phone System
During the 2017-2018 school year, Council had approved a boardwide change from more traditional IP telephone lines to new Skype for Business lines. Council has now approved a bid from WEPC in the amount of $62 000 for the purchase and installation of 352 telephones in classrooms and 143 in offices. This contract affects half of the board's establishments (14 of 30 schools or centres, plus the board office). WEPC is the lowest of three bidders.
Financial Statements
Council has unanimously approved the board's financial report for school year 2017-2018, which is now available to everyone online on this page.
Independent accounting firm Raymond Chabot Grant Thornton provided an opinion without reserve expressing that "in all its major components, the financial statements provide an accurate image of our board's financial status".
Overall, for the 2017-2018 school year, the Western Québec School Board registered a surplus of 1.92% on revenues of 97.9 million dollars. Amongst the factors that led to this surplus:
Higher than anticipated revenues;
Surplus in schools & centres budgets;
Overall increase in MEES revenues due to our increased student enrollment;
Funds from MEES received in the last trimester of the school year, with fewer new expenses;
Surplus in vocational training funds due to a higher than anticipated student retention rate.
During the same school year, the school board has spent 2.86 million more on teaching, support to teaching and training than it did during the previous school year (2016-2017).
The school board has a mechanism in place to access our accumulated surplus and utilize it into future school board budgets, including reallocating it to school budgets.
Long-Term Loan
As per article 78 of the Financial Administration Act, the administration wishes to request a loan from the Minister of Finances for an amount not exceeding $7 641 000. Under the recommendation of Director of Finance Sandra Cox, Council has passed a resolution allowing this long-term loan.
Composition of Governing Board – St. John's Elementary
As requested by Principal Lorianne Bertrand, Council has agreed to decrease the number of parent participants from 6 to 4 and teacher participants from 4 to 2. The number of support staff participants (2) and professional staff participants (0) remain unchanged.
---
Disclaimer – This information is provided solely as a short summary of the matters discussed at the Council of commissioners meeting. This summary is provided in the spirit of transparency, and it will in no way replace the official minutes of this meeting, which are usually approved at the following meeting, and made available online shortly thereafter. In the case of a conflict between the information provided here and the approved official minutes, the latter takes precedence.