Thursday last week, a surprise assembly was held at Lord Aylmer Elementary School to honour a former student of the school, Penelope Adkins, for an amazing accomplishment. Her mother had told Penelope, who now studies at Symmes Junior High, that they were stopping by Lord Aylmer to pick up her younger sister on their way to a dentist appointment. Upon arrival, the principal asked Penelope to come to the gym with him since her former teacher had wanted to say hello. When the doors to the gym opened, Penelope was greeted with cheers and applause from Lord Aylmer's students who were in on the surprise.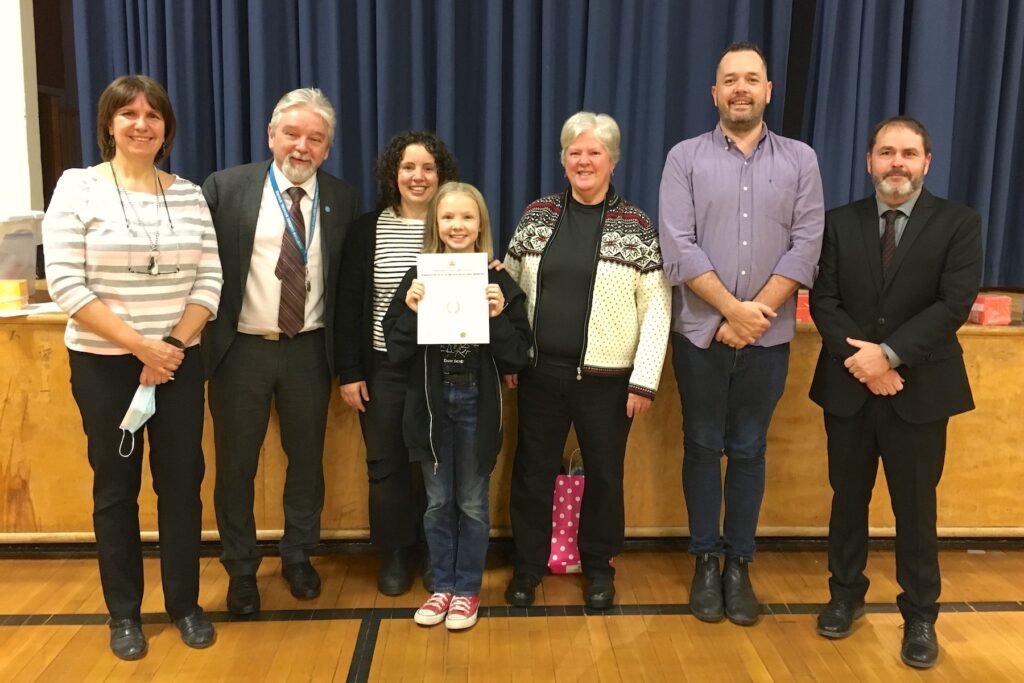 From left to right: Corinna Chaudhary, teacher;
Mike Dubeau, director general of the WQSB; Amanda Russell, proud mother;
Penelope Adkins, award-winning writer; Cathy Goldsborough, school board commissioner;
Justin Ford, chairperson of the Lord Aylmer governing board; Eldon Keon, school principal.
While in Grade 6 last May, Penelope was encouraged by her teacher, Corinna Chaudhary, to enter the prestigious Royal Commonwealth Essay Writing Competition. This is the world's oldest international writing competition for schools, having begun in 1883. The 2022 competition saw a record-breaking 26 300 entries. Each year, young people write on a theme that stems from the Commonwealth's values and principles, developing key literacy skills whilst also fostering an empathetic and open-minded world view.
Penelope won a bronze award for her touching and thought-provoking composition entitled "Like Keller". Ms. Chaudhary, Penelope's proud Grade 6 English Language teacher, called Penelope's placement in this competition a stunning achievement.
Like Keller, by Penelope Adkins
Her cheeks were stained with tears. She hid in her blue comforter. I pulled my grandchild into my arms and caressed the top of her head.

Why are you crying my dearest? I signed.

I don't understand anything! Her fingers trembled as she signed, her lips wobbled.

I sighed, tell me, dear, tell me what happened.

Her eyes watered again, the kids at the park today tried to invite me to play and didn't see them. They thought I was so rude and tried to tell me so. I just tapped my ear to show that I was deaf, and they started shouting like it would help! They acted like I was dumb!

My sweet grandchild who I cherished, buried herself in her teddies and sobbed.

My heart sank.

This was not the first time my darling girl had felt like an outsider. I raged at the people who looked at my girl differently because she did not communicate with her voice, and longed for a day when my granddaughter would stop blaming herself for the ignorance of others.

You are not dumb, I signed once I had removed her from her teddies and kissed away her sorrow.

I am deaf. In their world, deaf equals dumb.

Tell that to Helen Keller, I smiled knowing she could never resist a story.

My granddaughter gave in, Who is Helen Keller?

I tucked her in and set her favorite doll next to her in bed and stroked her cheek, Helen Keller was born hearing and seeing. She was only a baby when a fever took her hearing and sight. At six years old she had a teacher who found a way to help Helen speak and listen with only her sense of touch. Her teacher's name was Anne Sullivan.

My granddaughter's eyes widened, She spoke? She was deaf and blind, and yet still she spoke?
I grinned at the look of pure wonder on her face, Not only did Helen graduate college with a Bachelor of Arts degree, but she also spoke out on matters such as the rights of the disabled and on women's rights. Next year you are going to a special school for blind and deaf kids, there they will teach you about her and other blind and deaf heroes. I gave her my pinky-finger to seal the promise.

My girl sighed happily at the idea of kids like her. Suddenly, a frown clouded her face.

I wish… I wish Helen Keller could come and teach me. My granddaughter looked longingly out her window. She rubbed her vocal cords as if trying to get them to speak.

I wrapped her in my arms, Helen Keller already taught the world to be a little kinder, she is an image of courage and resilience, and you my dear will be greater than anything Ms. Keller could have possibly imagined. Of that I'm certain!

I laid my girl back in the folds of her blanket, I kissed her forehead, and just before turned off the lights my granddaughter grabbed my arm, her young eyes were serious when she signed,

I am going to be like Helen Keller.
During the assembly, Penelope encouraged her former Lord Aylmer schoolmates to enter the competition this year and to explore creative writing. She then regaled the audience by reading her story. Her Lord Aylmer family is thrilled for her and wish her continued success in all her endeavours!