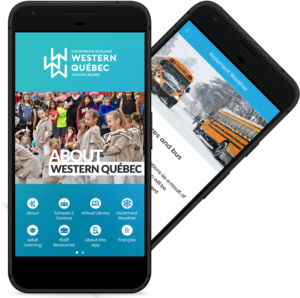 The Western Québec mobile app brings the board well into the smartphone and tablet era. This new tool will enable us to target parents by schools and send relevant notifications directly to their pocket. Of course, it doesn't stop there. We also loaded our app with features like staff resources and the Western Québec Virtual Library.
Families should download the app to make sure they get timely information on bus transportation, fire drills, various reminders and important news. Families without smartphones can get Inclement Weather information on our Website, Twitter feed and on the air of their local radios.
Have an iPhone?
Use Safari to go to westernquebec.ca/ios. Tap Open, and then Get.
On Android instead?
Visit westernquebec.ca/android  from your Android device, and tap Install.
It's never been so easy to check if buses are running.
Just tap the app and be on your way (or not!).
By downloading and keeping the Western Québec app on your device, you understand that it is provided to parents by the Western Québec School Board with no legal guarantee whatsoever. Push notifications should never be taken for granted. Their delivery depend on many different factors, all of which are prone to failure.
There are many other ways to get timely information on transport cancellations or school closures (very rare) at Western Québec. Soon after decisions are made, we will display a message at the top of our Website and on our Twitter feed.