.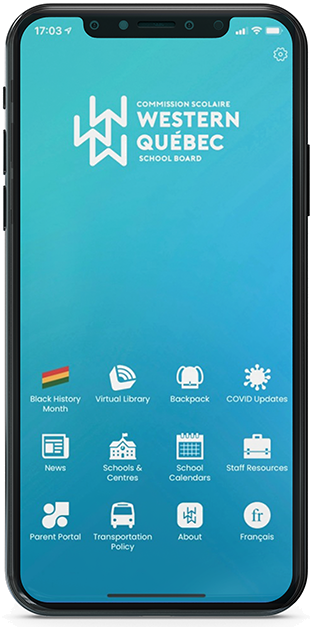 Using the WesternQC app, parents can quickly get bus transportation and inclement weather updates specific to their child's school.
We also packed the app with features and resources relevant to students, parents and staff. It provides the quickest on-the-go access to:
   •  all school calendars
   •  the Virtual Library and Backpack
   •  the Mozaïk Parent Portal
   •  the payslips and Helpdesk portals, and more.
.

.
Download the app onto your smartphone or tablet now using the buttons above or by searching 'WesternQC' in the App Store or Play Store.
---
By downloading and keeping the Western Québec app on your device, you understand that it is provided to parents, staff and students of the Western Québec School Board with no guarantee whatsoever. Push notifications should never be taken for granted. Their delivery depends on many different factors, all of which are subject to failure.