According to multiple news outlets, the water levels on the Ottawa and Gatineau rivers will rise over the coming days, but will not likely reach the levels of last week. We remain in contact with representatives from the City of Gatineau, as well the various municipalities in the Pontiac and Maniwaki areas to receive updates on conditions of their infrastructure. We are not anticipating any further school closures, but transportation will continue to be disrupted by flooding and road closures.
School Closures
Next week (May 13-17), all schools should be open and transportation offered, with delays.
Transportation Delays & Disruptions
Due to road closures and heavy traffic for the next few days, disruptions and delays to transportation will be widespread. We appreciate your understanding and patience to this regard.
Our buses only travel down roads where they can do so safely. If a bus does not pick children up in the morning as a result of unsafe road conditions, and their parents choose to drop them off at school nonetheless, it is expected that they will also be responsible for picking them up after school as it is likely that the bus will not be able to travel safely down the same roads in the PM.
Impacted Sectors
Gatineau
An interactive map is made available by the City on gatineau.ca/crue. This map displays blocked streets in red and restricted ones in yellow.
Pontiac
As per the municipality's website, the following roads are closed until further notice: Anne Street, Bord de l'eau Road, Bronson-Bryant Road (at Clarendon and 2nd concession), Bruce Street, Cain Road (currently being repaired), Church Street, Dion Road (at the end), du Lac Road, Eardley-Mash Road, Ferry Road (follow detour), Gauvin Road, Gold Mine Road (at 5th concession), Lac LaPêche Road, McCann Street, Mohr Road, Mulligan Road, Murray Road (sections), Proven Road (between Beaudoin and 6th concession), River Road (between Mulligan Road and Highway 148), Smith Road, Saint-George Street, Saint-Andrew Street, Saint-John Street, and Saint-Patrick Street. Follow their Facebook page for the most recent updates.
Low
As for the municipality of Low, all roads have reopened on at least one lane. Check their website for the most recent updates.
Val-des-Monts
On Friday, the municipality has sent out a press release which you can read here.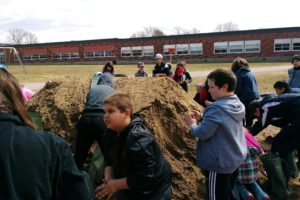 At the local level, our school principals and staff are supporting students and families affected by the flooding. As of today we have not been contacted by civil authorities to use any of our facilities for emergency purposes, but as always we will do whatever we can to support our communities that are in need of help.
Photo: Last week, Shawville's McDowell students helped fill sandbags for nearby municipalities.