Entrance Bursaries were distributed on last Thursday at Cégep Heritage College, in Hull. The five recipients have just graduated from our school board. Congratulations to Malyah Williams of D'Arcy McGee, Cassandra Meharg of St. Michael's, Nicolas Demers of Pontiac High, Veronica Theriault of Philemon Wright and Drake Cote-Ratt of Maniwaki Woodland.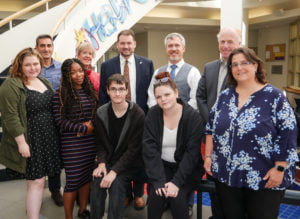 The graduates, now enrolled at Heritage, received a $1000 Heritage College Foundation Entrance Bursary for the 2019-2020 Academic Year.
Gatineau City Councillor Gilles Chagnon, Heritage College Director General Gordon McIvor, Director of Student Services Yves Lahaie, Communications Advisor Sandra Ricci, and Foundation Board Members Marie-Paule Dufresne and Marc Fricker joined in congratulating the five first-year Heritage College Students. Each recipient was nominated for his or her outstanding motivation and perseverance by their WQSB High Schools. Special thanks to the Heritage College, its foundation and its donors, including the City of Gatineau.
Heritage College Foundation Chair Chris Schaler stated that the "Heritage College Foundation is delighted to encourage such deserving students. The creation of entrance bursaries is the Foundation's latest encouragement and support initiative."
Foundation Manager Nicole Lefebvre added that the "Heritage College Foundation is registered a charitable organization established by our community and for our community."
For more information on the Heritage College Foundation, visit its website.