Tuesday morning, staff of Western Québec and Pierre Elliott Trudeau Elementary School (PETES) welcomed MNA Maryse Gaudreault in the school gymnasium. She brought incredible news with her. Not only was the school's expansion project deposited by the school board to the Ministry now granted, but it was also specially selected out of all Québec primary schools for the Lab-École project.
First, the funding of 5.56 million dollars will allow the addition of 4 new classrooms and a gymnasium. Several factors have led to the student population of PETES to double in just a few years. For 2 years, Western Québec has worked with the school's governing board and the office of the MNA on this dossier.
An extra 2 million dollars are then added to fund a Lab-École project. Launched last November, Lab-École is an innovative project aiming at making Québec public schooling a source of pride and a ideal learning environment in which students can live up to their full potential. Innovation, collaboration and accessibility are the 3 main values behind the Lab-École project. In addition to offering a physical environment that promotes student success, PETES will become the model of a 21st century school. A living space that engages children and allows teachers to use different learning methods.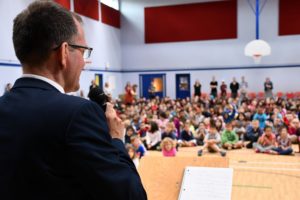 One of the lucky seven!
Only seven schools across the province will be a part of the Lab-École project. PETES is not only the only selected school in the region, but also the only Anglophone one in the province.
Starting today, Western Québec and PETES staff will benefit from the support and guidance of the Lab-École team. More specifically, the School Board will be accompanied in the design of architectural plans as well as in the construction work.
« Today's announcement was one of the greatest moments in the history of our school. Thanks to the tireless work of our parents, staff, directors, commissioners, and our MNA Maryse Gaudreault, we have collectively achieved something truly remarkable. Our students will benefit greatly from the  Lab-École investment as this will undoubtedly enhance their outstanding and innovative educational experience at PETES!  We are very honoured and humbled by this uniquely momentous day.
David McFall, Principal, Pierre Elliott Trudeau Elementary School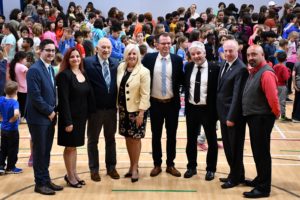 « We are extremely pleased with today's announcement. The upgrading of the facilities is long overdue and the funding for a Lab-École, a school for the future, is a real bonus for our students and staff. We are well positioned to providing quality English education and opportunities for all of our learners. This school in the centre of Hull is bringing together the members of its community, one that we are committed to supporting as an educational unit. »
James Shea, Chairman, Western Québec School Board