(and rolled out of there with well-deserved awards!)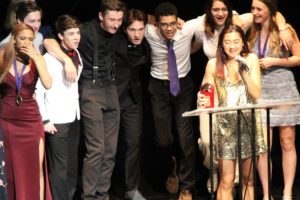 For a second time now, students of Hull's Philemon Wright High School left the Ottawa National Arts Centre having won "Favourite Musical" at this year's Cappies Awards Gala.
The National Capital Cappies, an organization that sends student critics to most high school theatre productions in the Ottawa region, seems to have been impressed by the cast and crew of over 50 students.
Five Rocked-Out Audiences
Back in April, the students performed We Will Rock You on five nights to five sold-out audiences. Under the direction of teacher Phil Holmes, the musical follows the story of a group of bohemian outcasts trying to survive in a futuristic world where music and instruments have been outlawed.  Two dreamers, Galileo and Scaramouch, along with the Bohemians, fight against the evil Killer Queen and her Yuppies, eventually prevailing and finding their Rhapsody.
The musical enraptured audiences with its singing, dancing and overall professionalism. Philemon Wright won five other awards at the Cappies this year:
Best Choreography – Tae Moon & Ocean Williams
Best Male Dancer – Brandon Forcier
Ensemble in a Musical – Laura Hebert & Joe Evenson
Supporting Actress in a Musical – Ocean Williams
Lead Actress in a musical – Tae Moon
Critics Favourite Musical