A team of five Western Quebecers united on Saturday to participate in La Boucle du Grand Défi Pierre Lavoie for their first time. Best of all? A sum of over $2300 was raised and will go towards physical education programs for 3 elementary schools participating in the Cubes Énergie challenge (Lord Aylmer, South Hull and Eardley).
The Wheelers are George Singfield (Principal), Wayne Daly (Commissioner), Dan Curley and Erick Tremblay (Teachers) and Phil Bazinet (Coordinator).
WQSB Member of Direction Pascal Proulx also participated in GDPL as part of a team that represent the 5 Outaouais school boards. The team consisting of himself, Isabelle Lowe (CS Portages-de-l'Outaouais), Nathalie Champagne (CS Draveurs), Réjean Potvin (driver – CS Hauts-Bois-de-l'Outaouais), Julie Bouchard (CS Cœur-des-Vallées) and Stéphane Vallée (CS Hauts-Bois-de-l'Outaouais), rode the 1000 km separating Saguenay-Lac-Saint-Jean and Montréal.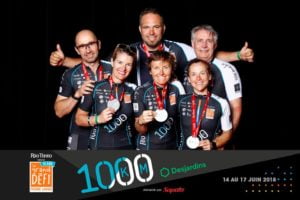 "The movement towards healthy living that Pierre Lavoie has lead is inspiring, to say the least. I am hoping that we can have a group of at least 30 WQSB Wheelers participating in La Boucle in 2019. This is a great springboard for the WQSB community to come together with a common goal of promoting fitness and healthy living for all members of our community."
– George Singfield, Principal (Symmes Jr. & D'Arcy McGee High Schools)
"Le Grand Défi Pierre Lavoie is an event like no other. Anyone that has been a part of it in the past will know how organized and successful it is. Our team was formed around a common interest for cycling and I could not possibly have asked for better companions. It was truly amazing to see how communities around the province came together for a common cause. A great experience!"
– Erick Tremblay, Teacher
"I'm proud of myself and our team for raising over $2300. Let's try to get more of our elementary schools to participate in Cubes Énergie next year! Looking forward to representing the WQSB for the GDPL full 1000 km in 2019 and congratulations to Pascal Proulx on completing the 1000 km this year!"
-Phil Bazinet, Coordinator (Human Resources)
Congratulations to all!