As part of our mental health plan and our commitment to providing a psychologically safe and mentally healthy work environment, our management staff participated in the Queen's University Workplace Mental Health Leadership Certificate Program.
The Workplace Mental Health Leadership certificate program is the first of its kind in Canada, developed in partnership with the Bell Canada Mental Health and Anti‐stigma Research Chair and Faculty of Health Sciences at Queen's University. The practical framework and leadership skills introduced in the program align with evidence‐based and industry best practices, including the National Standard for Psychological Health and Safety in the Workplace. Certification showcases organizational leadership and commitment to a mentally healthy workplace, through best practices and innovative solutions.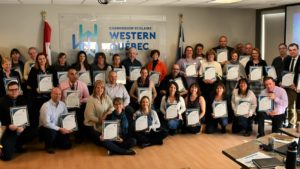 Over the course of three modules, management staff explored the ever‐expanding business case for mental health in the workplace. This includes an improved understanding of relevant legal, ethical and business concerns. This certification program also supports the development of empathetic and solution-focused leadership skills, which can be transferred to a variety of professional settings and situations.
The cost of this extensive training was funded through a provincial grant applied for by the Human Resources Table of the nine English school boards in the province. Terry Kharyati and Krystal Boutin, respectively Director and Coordinator of Human Resources for the school board, are to thank for organizing and championing our goal of providing a mentally healthy and psychologically safe workplace.
---
Report a typo, give feedback or share a story with us >