On Tuesday, Western Québec School Board commissioners and administrators presented a very special award to very special teachers from the Pontiac Continuing Education Centre in Shawville. The Coup de cœur was presented to teachers Susanne Poirier, Heidi Hall and Kim Greene on behalf of non-profit cooperative Éducation Internationale.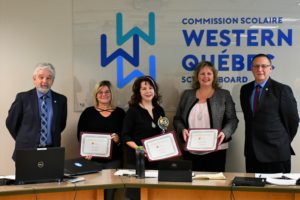 This award recognizes and celebrates successful projects abroad that have made a difference in the lives of students and others internationally. Last May, PCEC nursing teachers and students embarked on a humanitarian mission to Ocoa, an impoverished town located in the mountains, about 60 kilometres west of Dominican Republic capital Santo Domingo. They together raised money for travel expenses, and to bring along medical supplies in order to help clinics in struggling communities.
It was an invaluable and humbling experience for students and teachers, and without a doubt a huge benefit to the people of Ocoa.
No wonder they were awarded this Coup de cœur!
---
Report a typo, give feedback or share a story with us >