There was a large crowd at Queen Elizabeth Elementary last Friday. And for a reason: a new breakfast club was inaugurated! A special occasion for students to share pancakes and fresh fruits with regional politicians, the senior administrations of both the School Board and the Breakfast Club as well as with school staff and local volunteers.
Breakfast will now be se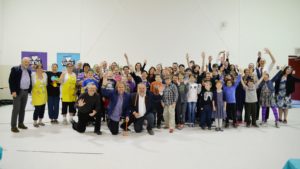 rved every morning to every student. This is made possible by the generosity of Mr. Pierre Riel, president of Breakfast Club Canada and a Maniwaki-born national businessman. Day after day, school staff members and volunteers are to thank for their contribution to both full tummies and academic success.
The event also inaugurated a second breakfast club at Bouchette's francophone école primaire Notre-Dame-de-Grâce.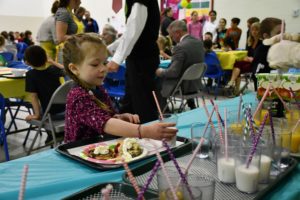 Guests of honour included Ms. Stéphanie Vallée, MNA for Gatineau, Minister of Justice and Minister Responsible for the Outaouais Region, Mr. Daniel Germain, Founding President of the Club, Mr. Pierre Riel, President of the Club, Misters James Shea, Pierre Dionne, and Mike Dubeau of the Western Québec School Board as well as Ms. Diane Nault and Mr. Fernand Paré, both of the Commission scolaire des Hauts-Bois-de-l'Outaouais.
"For me, breakfast is the most important meal of the day. A healthy diet brings all of the energy required for effort and concentration. Breakfast Club's expansion of services to new school in the Vallée-de-la-Gatineau is excellent news. It promotes the success of our students. I welcome this wonderful initiative and I warmly thank all the partners involved."
Stéphanie Vallée, MNA for Gatineau, Minister of Justice and Minister Responsible for the Outaouais Region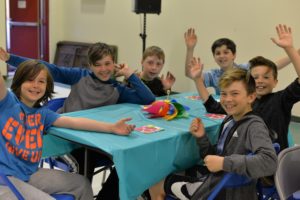 "We all know that breakfast is the most important meal of the day. We are very fortunate at Queen Elizabeth Elementary School to be able to serve breakfast to all of our students every morning. Thank-you to the Breakfast Club of Canada, to M. Pierre Riel and to all of our volunteers for making this a reality for our school. Our students are now able to start their day with a full tummy and ready to learn. We are very grateful."
Debbie Picard, Principal, Queen Elizabeth Elementary School
"Having community engagement in our schools is critical to student success. I am extremely pleased with the partnership that is evident in this breakfast project. Many thanks to all of our sponsors."
James Shea, Chairman, Western Québec School Board