The Western Québec School Board and Lab-École are delighted to announce the start of construction on the one of a kind Lab-École expansion project at Pierre Elliott Trudeau Elementary School (PETES).
The Gatineau Lab-École, the latest of six in the province, will take the form of an extension to the school. Covering an area of 3,100 m2, the expansion will add eight classrooms, bringing the total number of available classrooms to eight for preschool and 26 for elementary school. A simple gymnasium and gathering spaces for collaboration and dining are also included in the project.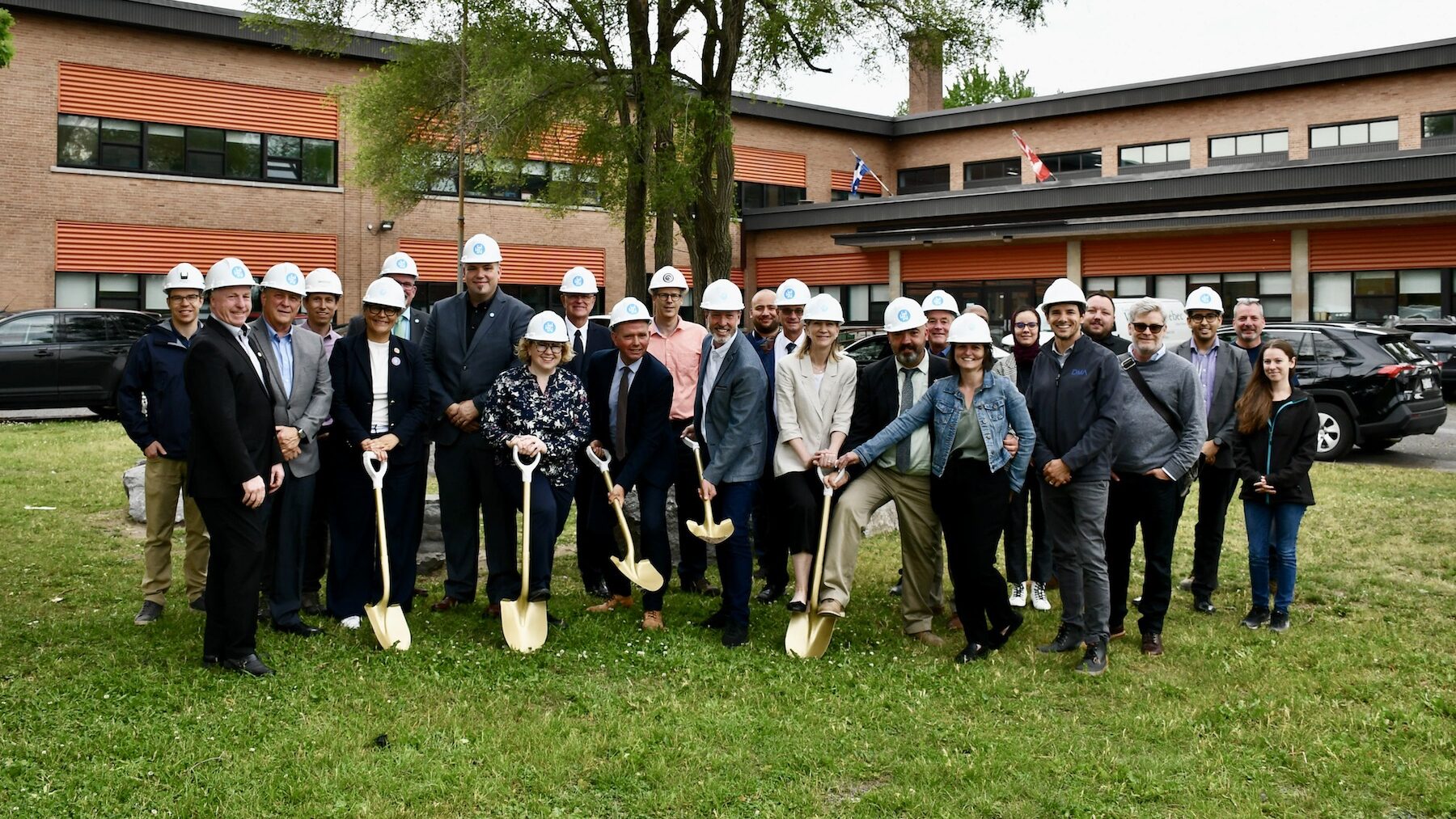 M. Ricardo Larrivée, celebrity chef and co-founder of Lab-École, the Honourable Michèle Audette, senator and member of Lab-École's Board of Directors, Wayne Daly, chairman of Western Québec, Pascal Proulx, assistant director general of Western Québec, and David McFall, school principal, and broke ground on this highly anticipated project this Monday morning.
An innovative project connected to nature
PETES' Lab-École expansion was designed by DMA Architectes, the winner of 18 projects in the architectural competition Imaginons l'école de demain ensemble. Under the theme Au cœur de la cour, DMA Architectes' project brings the notion of a place of belonging and community to the heart of the school's values, whose mission is to be an inclusive place based on emotional stability, sharing and openness. It focuses on a holistic, discovery-based approach to teaching that decompartmentalizes subjects and integrates nature as a source of contemplation and learning.
The Lab-École project will create a secure and inviting courtyard for students and staff at Pierre Elliot Trudeau Elementary School. The common functions placed all around the courtyard, in addition to the bleachers that open onto it, will contribute to the creation of a true sense of community. Near the heart of the school will be a cultural room open to nature. It will reflect the spirit of the First Nations and teach students ancestral native techniques.
The Gatineau Lab-École project – estimated to cost $37.4 million – is financially supported by the Quebec government, with the Ministère de l'Éducation investing $30.1 million. The remainder of the investment required to complete the project is being assumed by the Western Québec School Board.
Multiple benefits for students
A student who attends this school during his or her elementary years will have the chance to become:
a student who moves more, collaborates better and eats better,
a student who is curious and committed to learning,
a student who is open to the world and aware of environmental issues,
a student who integrates an active lifestyle into his or her daily life,
a student who is sensitive to the needs of others and those of his or her community,
proud of and respectful of their environment.
Quotes
"Supporting and promoting Quebec expertise to improve the education environment are priorities for our government. We're delighted to be able to count on projects like Lab-École. We want our young people to be able to benefit from bright, modern spaces, and this project meets that need. I'd like to congratulate everyone involved in making this project a reality."
– Bernard Drainville, Quebec Minister of Education (translated)
"Our commitment is to offer young people in the Outaouais region even more services and high-quality schools. Gatineau is fortunate to be able to benefit from an innovative model like Lab-École, which represents so many opportunities for academic success for the region's students. We thank you and congratulate you on your work and your positive contribution to the community."
– Suzanne Tremblay, Member of National Assembly for Hull (translated)
"In addition to allowing students to evolve in a space connected to its community and to nature, Lab-École Gatineau will provide an environment and experience conducive to well-being, engaged learning and educational success. The school team here is already doing extraordinary work in many areas, including nutrition. The expansion project will enable them to take their commitment to the subject to another level, thanks in particular to dedicated spaces that will facilitate the sharing of knowledge, experiences and good food!"
– Ricardo Larrivée, co-founder of Lab-École (translated)
"Lab-École is an extremely stimulating project full of twists and challenges that offers us the chance to review our standards and ways of doing things."
– Pascal Proulx, Assistant Director General, Western Québec School Board (translated)
"The Lab-École vision will reimagine school architecture and inspire a philosophical shift in thinking to improve the health and learning outcomes for all students in Quebec".
– David McFall, Principal, Pierre Elliot Trudeau School
About Lab-École
Lab-École is a non-profit organization financially supported by the Ministère de l'Éducation du Québec, whose mission is to bring together multidisciplinary expertise to design and influence the schools of tomorrow; schools that meet the needs and realities of students and those who support them.