This year, Lise Proulx, a teacher at Philemon Wright High School, has earned a Prime Minister's Certificate of Achievement. This Certificate recognizes Ms. Proulx's work and her commitment to imparting to her students not only the French language, but also an appreciation for Canada's Francophone culture.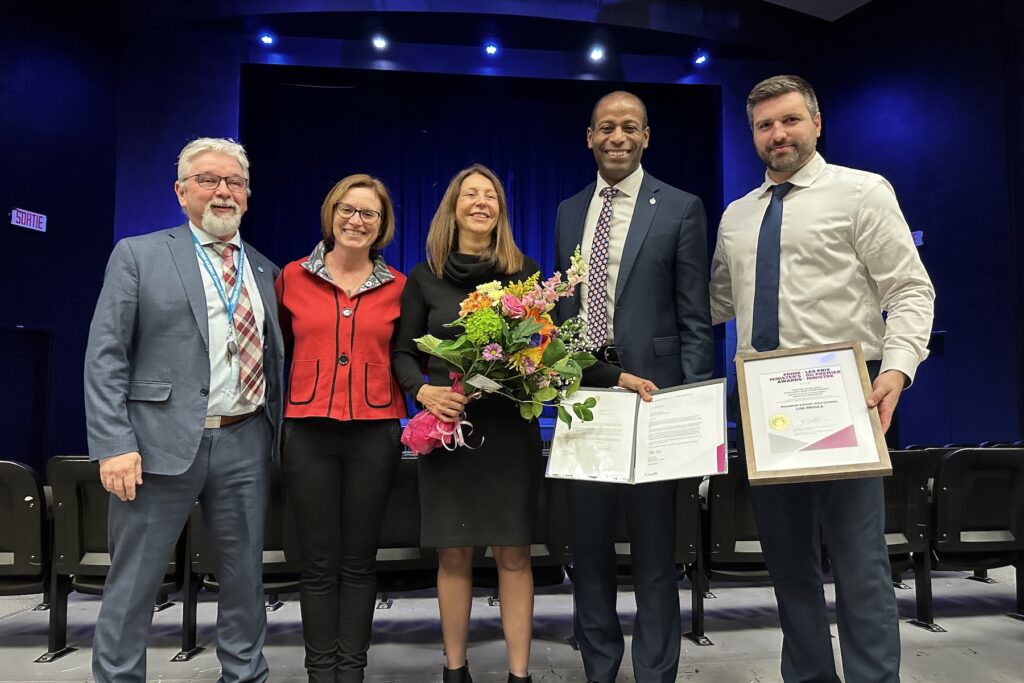 Left to right: Mike Dubeau, Director General of the Western Québec School Board;
Dodie Payne, Principal of Hadley Junior and Philemon Wright High Schools;
Lisa Proulx, teacher and award recipient; Greg Fergus, local member of Parliament;
and Erick Tremblay, vice-principal of Hadley Junior High School.
"Ms. Proulx is a guardian of Francophone and Quebecois culture. Through the study of novels, various audiovisual presentations and opportunities for her students to share their cultural knowledge, Ms. Proulx fulfills another one of her teacher roles by bringing the French language to life in her classroom."

Geneviève Forget and Nicholas Vincent, colleagues
Lise Proulx is an outstanding teacher who has taught in Western Québec School Board for 27 years, most recently at Philemon Wright High School. Lessons are planned and facilitated with engagement and skill development in mind. Students are provided supports in a safe learning environment, that allow them to express themselves in the French Language. Lise is always improving as a teacher because she is committed to continuous learning and growing professionally. She participates in many professional development opportunities. She is a key player in professional learning groups that run within the school. She loves to learn and participates in professional dialogue that leads to improved practice for herself and her colleagues. She lives our school vision every day; to maximize student achievement we are dedicated to continually increase the quality of teaching and learning at Philemon Wright and in our school board.
As a member of the French department, Lise works closely with her colleagues on a daily basis. Her smile and caring approach go a long way in creating that family atmosphere with her team. She shares her experiences and her knowledge during their informal meetings in the hallway or their formal department meetings. Her colleagues go to her for advice and support regularly. The most important thing is that they all know she is there to support them and will do anything to help her colleagues.
Lise has been a coach for the Western Québec School Board Teacher Induction Program for many years. She has been a coach to one or two new French teachers every year. She is an excellent coach/mentor. She meets with the new teachers on a regular basis, works with them in the creation of their professional growth goals and supports them with putting strategies in place to meet their goals. She observes them and facilitates the new teachers observing other teachers. She makes sure she walks with them through all day-to-day school events and the more serious professional responsibilities. She plays a key role in the success of our new teachers. She has a great impact on preparing our future teachers which maximizes student achievement throughout the school.
Lise is an excellent Prime Minister's Award recipient. She continues to support the school, her colleagues and is always focused on student success. Always an advocate for building relationships, building community, and strong pedagogies. Lise's passion is always at the forefront of her work in education.