The Western Québec School Board will receive the amount of 3.3 million dollars from the ministère de l'Éducation et de l'Enseignement supérieur for the addition of five new classrooms and a daycare area at Greater Gatineau Elementary School. This was announced on Friday by Marc Carrière, Member of the National Assembly for Chapleau and Parliamentary Assistant to the Minister of Education.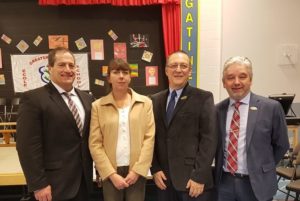 "We are absolutely thrilled to hear about the funding for an expansion. The lack of space at the school has been challenging for us over the past few years; and a great appreciation goes out to the staff for their flexibility and positive attitude in regards to sharing classrooms.
One of the most exciting aspects of this project is that we will be a part of the "Lab-École" initiative of Québec. The initiative involves creating a "school of the future" where the ideal learning environment for students is created. The design team will seek out ideas from teachers and students to incorporate into the project.
We feel extremely fortunate to have an MNA who is so involved with the schools in his riding. M. Carrière took the time to visit our school, examine the reality of our situation and take action in helping to ensure the success of students at Greater Gatineau School."
Valerie Link, Principal, Greater Gatineau Elementary School
"This additional space will allow us to meet the needs of the region, which is rapidly growing. With this investment, our government is showing that education is one of its key priorities and that we are paying attention to the population of Québec and the school community and their needs. Today's announcement is, therefore, excellent news for teachers, students and their families. I am convinced that this investment will have a positive impact on the success of our young people."
Marc Carrière, MNA for Chapleau and Parliamentary Assistant to the Minister of Education
"The Western Québec School Board is very pleased to hear about this investment in the Greater Gatineau school community. This decision will enable us to maintain the student intake at our existing schools, and to improve the English instruction programs that support our educational goals. I want to personally thank MNA Marc Carrière for his involvement and his commitment to this project. I know that his personal intervention with the Minister of Education, Sébastien Proulx, helped make these possibilities a reality. What an excellent way for the Western Québec School Board to begin 2018!
I also want to acknowledge the patience, understanding and consistently positive attitude demonstrated by parents, teachers and students as enrolment at the school continued to increase."
James Shea, Chairman of the Western Québec School Board
"I am delighted that the Minister of Education, Sébastien Proulx, has approved our request to expand the Greater Gatineau elementary school. The additional space will enable us to continue to develop our bilingual education services for our students. We greatly appreciate the steadfast support for this project that we have received from our MNA, Marc Carrière, and his support for English education."
Mike Dubeau, Director General, Western Québec School Board
"This is great news! Greater Gatineau school has been wrestling with space problems for several years. Today, we are receiving the funds to remedy this situation. Of course, nobody ever does technical work alone, so I am taking this opportunity to thank the staff at the Ministère de l'Éducation et de l'Enseignement supérieur. I also want to say a big thank-you to our professionals and our wonderful team in the Buildings, Equipment and Technology department for their hard work and drive. This project demonstrates once more that we can make a difference in the quality of life for our students and teachers."
Pascal Proulx, Director of Buildings, Equipment and Technology, Western Québec School Board