Letter from the Chair
As Chairperson of the Western Québec School Board, I would like to share that Director General Mike Dubeau has advised the Council of Commissioners that he will be retiring.
Mr. Dubeau was named Director General in January 2017, after serving in several senior administrative positions, including Director of Education, Director of Technology, Director of Human Resources, and as Director General he also led the Transportation and School Organization departments.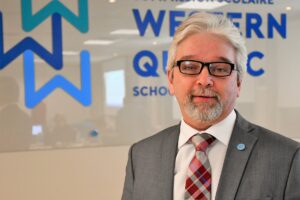 Mr. Dubeau began his career teaching for what was then the Pontiac School Board, and became a school administrator with the Western Québec School Board in 1998. In 2008, he moved to board-level administration.
Mr. Dubeau has served every position with integrity, fairness, and a clear focus on student success. He has been instrumental in his school-level positions in working with and supporting teachers in delivering the highest quality of teaching. Then, in his role as Director of Education, Mr. Dubeau developed and led the school board's Teacher Induction Program. The program is second to none in the province. As Director General he maintained his role of overseeing the program, working with, developing, and supporting key staff to ensure the highest quality of delivery.
As Director General, Mr. Dubeau has been responsible for developing the school board's key strategic directions and objectives and, with the senior administration team, ensured their implementation through guidance and support.
During his 6 years as Director General, Mr. Dubeau has led the school board with transparency and professionalism. He has fostered a culture of trust and care for all, while never losing sight of our core purpose or our responsibility to our learners.
I would like to thank Mr. Dubeau for his commitment and dedication to the school board, to our students and to our communities.
The Western Québec School Board will be seeking to fill the Director General Position by the end of June 2023 to ensure a transition prior to Mr. Dubeau's departure.
Wayne Daly, Chairman
Western Québec School Board