Kindergarten (German for Children's Garden) is the first step of a child's educational career. It is the foundation to future learning. It is a place where he or she will grow and learn socially, academically and emotionally.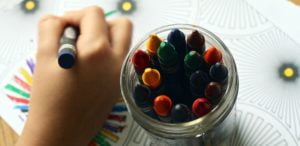 Parents are their child's first educators. Their partnership with the school is primordial. A relationship that fosters mutual cooperation and respect will benefit their child's growth and positive development. Developmental milestones self-discovery, acquisition of knowledge and relationship building with peers and adults are the cornerstones of life in kindergarten. The overall objective is to provide the right environment and conditions for the child to develop physically, emotionally and intellectually. Learning situations draw both on play and life experiences, preparing the child to be an active and thoughtful learner in all areas of their life.
Preschool education focuses on play. Spontaneous and teacher-directed play contributes to the child's development as he/she learns to problem solve, discovers his/her personality and interacts with others. Creativity and imagination develop while children interpret their own reality.
What will my child do in Kindergarten?
The Preschool curriculum is set by the ministère de l'Éducation in the Education Program.
Play is an essential part of learning in kindergarten. It contributes to the overall development of the child. Intellectual curiosity, knowledge attainment, social interactions, problem solving skills, physical dexterity are a few of the skills developed through play. Teachers guide and influence play activities with an end result in mind. This allows teachers to informally assess and guide individual progress.
Prepare your child for Kindergarten
Here are different activities parents might like to engage with their preschool children.
Social/Emotional Development
Encourage your child to persist with tasks when faced with a problem by giving them tasks slightly above current ability level. Encourage seeking help only once a solution cannot be found.
Play board games… it helps to practise turn taking.
Set the expectation that your child is to tidy up after playtime.
Language Development
Encourage your child to talk, question, and discuss!
Verbally give your child one and two-step directions and expect to follow through.
READ to your child for 20 minutes a day.
While reading, point to the way books are held. Point to the words while reading so that top to bottom and left to right directionality is apparent.
Discuss the story. Ask your child to predict what the book is about, what will happen next, favourite character, etc.
Encourage and praise any attempt at "pretend reading".
Encourage creative drawing. Provide plenty of paper, pencils, crayons, markers and paint! Encourage your child to tell you the story of the picture drawn.
Have your child practice printing their name using the proper upper and lower case letters. Teach them the letters and sounds associated with those specific letters.
Cognitive Development
Sort items by colour, size and shape.
Create patterns with your child (blue, red, blue, red)
Practice counting aloud to 20.
Count objects in your house.
Find shapes of items at the grocery store.
Discuss opposites (soft/hard, big/small….)
Keep a calendar – talk about days of week, time of day, upcoming events…
Make cards
Cook together
Physical Development (Gross and Fine Motor)
Run, jump, climb
Play catch
Stack blocks
Skipping
Puzzles
Beading
Playdough
Use scissors
Creative Arts
Puppet shows
Pretend play and join in occasionally!
Use different materials to paint and draw on
Teach the primary colours
Build independence
Visit the school (check when the date of the Open House is)
Play and explore in the school yard.
Your child should be able to dress independently (Velcro and elastic waistbands help in this process!)
Washroom routine should be independent.
Eating (make sure that containers can be easily opened)
Children's books about starting school
I am Too Absolutely Small for School (Lauren Child)
First Day Jitters (Julie Danneberg)
The Kissing Hand (Audrey Penn)
Chu's First Day of School (Neil Gaiman and Adam Rex)
Little School (Beth Norling)
Pete the Cat: Rocking in my School Shoes (Eric Litwin)
Wow! School! (Robert Neubecker)
The Berenstain Bears – Go to School (Stan and Jan Berenstain)