Emma Hurtubise and Jennifer Piercey, two members of the Western Québec community, were celebrated at the 2019 provincial Gala Forces Avenir last night in Quebec City. This gala aims at recognizing, honouring and promoting student engagement in projects which contribute in developing active, conscious, responsible citizens simultaneously rooted in their community and open to the world.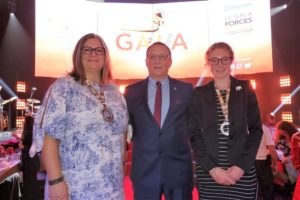 Jennifer Piercey, WQSB Chairman Alain Guy and Emma Hurtubise
This is the first time in Forces Avenir's 12-year history that members of an English-language school board are celebrated.
Emma Hurtubise, a student ready to give her 100% for her community
Add her quiet yet strong presence to her inspiring and confident leadership and we get Emma Hurtubise, a student whose engagement in her school (D'Arcy McGee) and her community follows values of equity, sharing and respect.
Considering that school should not be a burden but a place for personal fulfilment, this grade 10 student played a determining role in the implementation of an anti-bullying campaign. As the copresident of the student government, she ensures that the interests of each student be well represented at the school. For example, as she was responsible for organizing a concert, Emma made possible the dream of a student living with an intellectual disability, which was to host the event.
This accomplished athlete and member of the basketball, volleyball, cross-country and flag football teams, Emma has also seen her sportswomanship rewarded on multiple occasions.
Jennifer Piercey, an animator engaged in fostering the respectful integration of indigenous communities
With the interest of indigenous communities deep at heart, Jennifer Piercey has implemented at D'Arcy McGee High School a series of initiatives aiming at promoting the respectful integration of indigenous students all while facilitating socialization with other students.
This counsellor in spiritual life and community involvement achieves this by coordinating the First Nations Cultural Tour, where 40 teenagers from all backgrounds discover and share the reality of indigenous communities by visiting one. In hoping to promote the engagement of indigenous youth in school activities, Jennifer has also created the Native Circle, where, once a month, indigenous students meet with inspiring members of their community.
Thanks to Jennifer's initiatives, both the school attendance and the graduation rate of indigenous students have gone up significantly.
Our school community counts on so many other people who, as Jennifer and Emma, inspire and make an enormous difference in the lives of the ones that come their ways. Congratulations to both of you. And above all: thank you!
---
Report a typo, give feedback or share a story >