The Western Québec School Board is proud to provide English language instruction as well as French Immersion programs.
Good to know
To register for Pre-Kindergarten (K4) for school year 2021-2022, a child must be 4 years of age by September 30, 2021. See which of our schools offer a K4 program >
To register for Kindergarten (K5) for the same school year, a child must be 5 years of age by September 30, 2021.
To register for Grade 1 for school year 2021-2022, a child must be 6 years of age by September 30, 2021.
.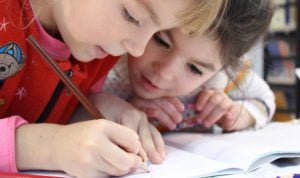 .
First steps
Verify that the child is eligible to English education in Québec;
Use our School Locator to determine the child's boundary school. To apply for a transfer to another WQ school, see Cross-Boundary Requests;
Obtain a copy of all necessary documents:

Child's original long-form birth certificate bearing parents' names;
Canadian Citizenship of the parent who will render the child eligible;
Québec driver's license of the parent/guardian responsible for the child or Lease/House Deed and a utility bill;

In the meantime, parents can contact WQ Admissions or their boundary school for any and all other questions.
.
---
To Register
To register, contact your child's boundary school by telephone or e-mail using the directory below. Registrations are by appointment only.
International Students
For information on registration of an international student to an Elementary or Secondary school, contact the School Organization Department directly.
.
---
Cross-Boundary Requests
Parents are asked to register their child in their boundary school. Cross-Boundary Requests allow parents to request to send their child to another school located outside of the boundaries of a given school (in other words, the territory served by a school). This transfer request is made to the Department of School Organization, which will review it individually before submitting a recommendation to the General Directorate.
.
---
Frequently Asked Questions
.
---
Contact Information
Want to discuss your situation with us? For further information on admissions and eligibility, contact Western Québec's Admission Team.
Sabrina Crawford, Admissions

819 684-1313 #540008
1 800 363-9111 #540008
scrawford@wqsb.qc.ca
Do you prefer to speak with the person in charge of registrations at a specific school? Use this directory >